The FRG Christmas Event is here!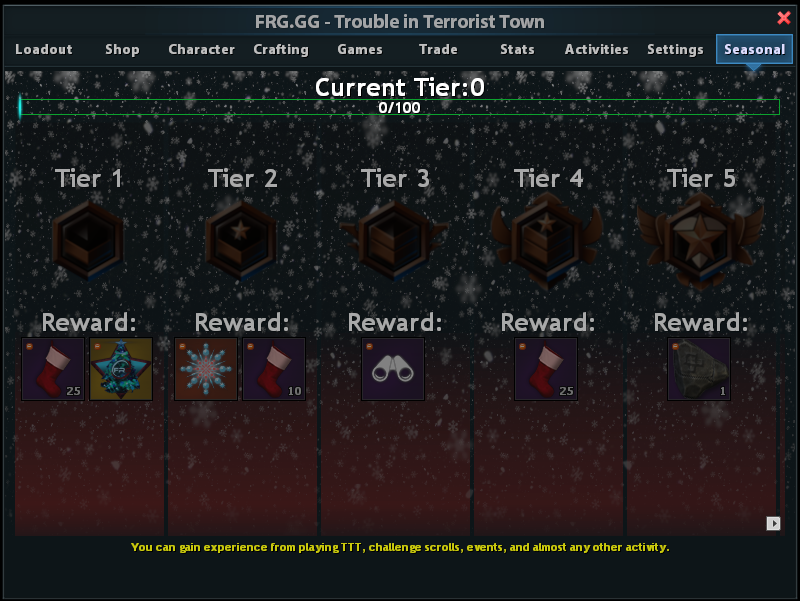 With it comes exciting new items, features such as the "Christmas Spirit" bar on the Lobby, Seasonal Daily tasks (including PVE tasks), and a return of the old Favorite Santa Raid Fight! Group up with your fellow players and defeat Santa. But be warned: Santa has not been sitting idle the years since the last group fight. He has been training, waiting for this moment.
Full changelog below:
Added Christmas Present VII (crazy it's been this many already). This present contains a good assortment of new items, traits, and skins.  These are for rubies only in the shop for ~1 week. Then they will be available for coins.



This present is an attempt to sort of 'go back to our roots', in terms of how a crate's godlike used to feel awesome to get. I put a good deal of effort into that type of item in this present. We'll see how it goes and if everyone enjoys it, and how I can further improve.  
Along side that, the "Random Godlike" slot for existing godlikes has been revamped to include more variety and they are much more likely to come decked out with seasonal stuff.

Added the new Seasonal Pass. This pass has a strong focus on community made suggestions for weapons and playermodels.

Added Christmas Stocking III's.

Adjusted the pass UI.

Completely remade my seasonal 'gift finder' system, unified it and fixed a number of bugs with it.

Added a "Christmas Spirit" bar to the Lobby.



This is a bar that is filled by using Jolly Energy near it. When the bar fills, it sends out gifts - community wide. To recent players and those who contributed. The amount of rewards and drop rates of rarer rewards are adjusted based on how much a person has contributed to that specific bar. You obtain Jolly Energy by completing seasonal tasks (as shown above).
The amount of energy needed to fill this bar is currently skewed to be harder than intended, so I can dial it back as I get more data during the event.

Adjust the amount of bits networked for a number of things - if you find any bugs with "Using" items not working, please let me know!